| | |
| --- | --- |
| Posted on July 30, 2016 at 3:50 PM | |
Wayman was one of the first people I met when I started teaching a T-Th morning class at BENE-FIT Health and Fitness back in 2004. I soon learned that he and I shared a love of bicycling and later a love of painting. Over the years as nearly everyone else who worked there moved on, he remained a fixture. From a fitness standpoint he set the bar high for active aging, not only cycling, but playing tennis and being that "old guy" who would jump into a Kickboxing class and make everyone else keep up. 
Wayman was a no-nonsense guy.  He didn't sugarcoat things so he sometimes came off as gruff. But it wasn't hard to see that underneath it all, there was a heart of gold. Wayman cared about others. Stories would surface about his buying someone a meal or putting a homeless woman up in a hotel for a few cold winter nights. He seemed to understand that the gym was more than a collection of treadmills and barbells, it was a place where people would come to connect. 
Inside of a packed church, we said farewell to Wayman today. The stories shared by family and colleagues re-affirmed that he had indeed touched many lives. When the shopping center deteriorated and lost most of its tenants, this gym maintained a surprisingly strong membership base. Wayman was one of the reasons for this, the thread that helped hold this gym together.
I had hoped that Wayman could be a part of our staff as we move into a new chapter as Blue Bicycle Health & Fitness. We were all deeply saddened when we learned that this was not to be. While we will no longer see him sitting at the Courtesy Desk or hear his voice, he will still be a part of Blue Bicycle Health & Fitness. The "Wayman's Gym" logo will re-appear later this year, gracing one of the walls in our new space. Even so, he will be missed.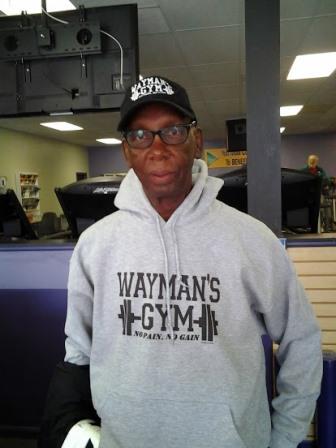 Categories: None
/