| | |
| --- | --- |
| Posted on January 19, 2018 at 11:20 AM | |
Habits are the foundation of building a better you. Success coach John Maxwell says "You'll never change your life until you change something you do daily." How you go about changing your habits can determine whether those changes will stick for only a week or two or become established as part of your way of life.
Habits are hard to change. They are behaviors that have become ingrained, sometimes over many years. When you decide you want to get into better shape, it is tempting to try and change everything at once. The reality is that many of us don't do several things well simultaneously. Leo Babauta, bestselling author and creator of www.zenhabit.net estimates that people who focus on changing one behavior at a time are more likely to retain that habit a year or more 80% of the time. When they try to change more than two at a time, that retention drops to around 20%. Focus on one or two things. You either do those things or you don't. Then seek explanations without making excuses or beating yourself up.
Much like the choices faced by Goldilocks, habit changes can be too small, aka too easy, they can be too big, aka too hard or they can be just right. Like the three bears, this is not one size fits all. Ask yourself if you can see yourself doing this for the rest of your life. More drastic changes can be made for a pre-determined short term period of time. The Whole30 Challenge is an example. How do you react to drastic change? Can you step back to that "just right" point at the end of the time period or do you rebound back to your old habits with a vengeance.
Find YOUR starting point. Identify one or two habits to change. It may be doing more cardio. It may be eating more veggies.
Clarify the desired habit and make it measureable. For example, doing more cardio may mean walking on the treadmill for 30 minutes every Tuesday, Thursday, and Saturday morning. Eating more veggies is clearer when stated as adding a fist-sized portion to each meal.
Check your confidence. On a scale of 1-10, one being impossible and 10 be easy, rate your commitment to making this change. If it is less than six, assess what you would need to do to raise that number or consider a different habit to tackle.
How can we help? We can meet with you to determine that starting point and determine your realistic next step. Willpower and discipline are finite resources. A habit that has time to get fully established will ultimately require less of both. Reaching that point is a continuous process of assessment and adjustment.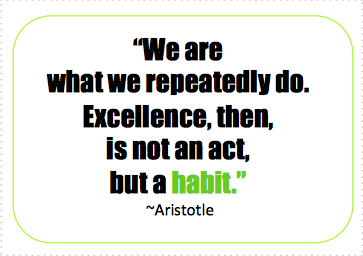 Categories: None
/